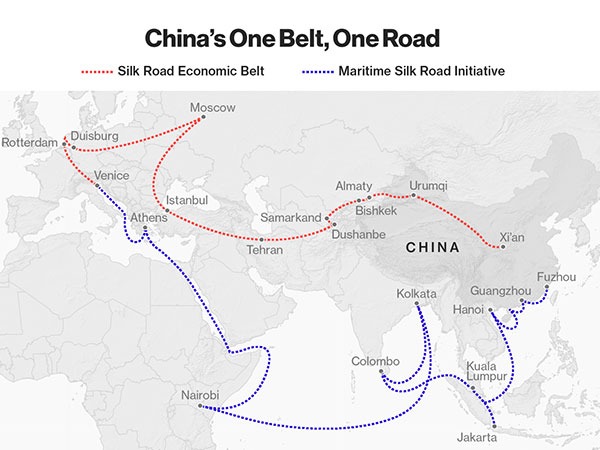 One Belt– the Silk Road Economic Belt

The silk road economic belt was also referred to as " One Belt " in short. It is a regional economic cooperation strategy. One Belt links the Asia-Pacific region and Europe.
There are two main trends for One Belt, starting from China and ending in Europe. One goes to Europe via central Asia and Russia. The second route is through central Asia and west Asia to the Persian Gulf and the Mediterranean countries.
One Road–the 21st-century Maritime Silk Road
The 21st century maritime silk road was also referred to as " One Road " in short. It is the economic cooperation between China and southeast Asia, South Asia, the Middle East, north Africa and Europe along the maritime silk road.
There are two main directions for One Road: the first is to reach the Indian Ocean from China's coastal ports and extend to Europe. The second is from China's coastal ports through the south China sea to the south Pacific.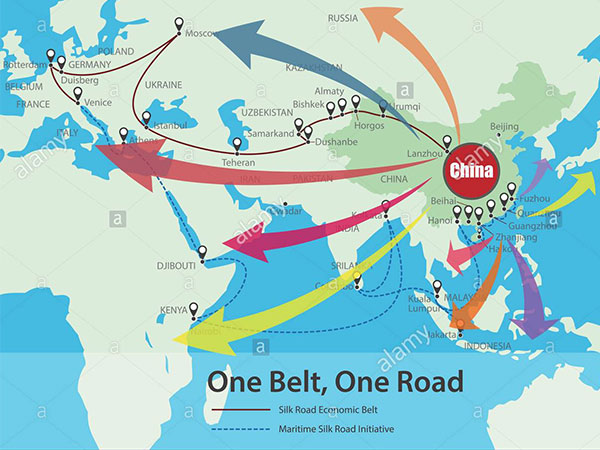 Roadmaps
1. North line A: North America (the United States, Canada) — north Pacific –Japan — South Korea — the Sea of Japan — Zarubino port – Huichun –Yanji –Jilin– Changchun — Mongolia – Russia — Europe (northern Europe, central and eastern Europe, Western Europe, southern Europe)
2. North line B: Beijing — Russia — Germany — northern Europe.
3. Middle line: Beijing — Xi 'an — Urumqi — Afghanistan — Kazakhstan — Hungary — Paris.
4. South line: Quanzhou – Fuzhou – Guangzhou – Haikou—Beihai — Hanoi – Kuala Lumpur – Jakarta – Colombo – Kolkata — Nairobi – Athens – Venice.
5. Central line: Lianyungang — Zhengzhou — Xi 'an — Lanzhou — Xinjiang — central Asia — Europe.
B & R Cooperation-by Oct. 2019
1.China has signed 197″B&R" cooperative agreements with
137 countries(or state) and 30 international organizations
8 countries in South Asia: India, Pakistan, Bangladesh, Sri Lanka, Afghanistan, Nepal, Maldives, Bhutan
12 countries in southeast Asia: Russia, Indonesia, Thailand, Malaysia, Vietnam, Singapore, Philippines, Myanmar, Cambodia, Laos, Brunei, east Timor
2 countries of Northeast Asia: Korea, Mongolia
5 Central Asia countries: Kazakhstan, Uzbekistan, Turkmenistan, Kyrgyzstan, Tajikistan
15 countries of west Asia: Saudi Arabia, UAE, Oman, Iran, Turkey, Israel, Kuwait, Iraq, Qatar, Jordan, Lebanon, Bahrain, Yemen, Syria, Palestine
3 West European countries : Portuguese, Italy, Luxembourg
16 central and eastern European countries: Poland, Rumania, Czech Republic, Slovakia, Bulgaria, Hungary, Latvia, Lithuania, Slovenia, Estonia, Croatia, Albania, Serbia, Macedonia, Bosnia and Herzegovina, Montenegro
6 countries of the CIS: Ukraine, Azerbaijan, Armenia, Belarus, Georgia, Moldova
38 countries of Africa: Egypt, Madagascar, Morocco, Ethiopia, Mali, South Africa,
Algeria…
9 Countries of entral and South America: Panama, Costa Rica, Chile, Salvador, Ecuador, Uruguay, Venezuela, Bolivia, Guyana
4 North American countries : Grenada, Dominican, Barbados, Jamaica
9 countries of Oceania: New Zealand, Fiji, Papua New Guinea, Samoa, Micronesia, Cook Islands, Niue, Solomon Islands
Victoria of Australia
2. Third-party Markets Cooperation
As of June 2019, China has signed documents on third-party market cooperation with 14 countries such as Japan, Spain, Italy, Canada, Austrilia, Portuguese, Singapore, Netherland, Greece, Swiss, UK, France and Belgium
Third-Party Market Cooperation Guidelines-NDRC,Sep.2019
3. Proposal
European Parliament launch "Belt and Road" policy communication committee-Mar.2019
4. Statistics by August.2019
In the first five months of 2019, the EU was China's largest trading partner, with a total trade value of 1.9 trillion yuan, an increase of 11.7%, accounting for 15.7% of China's total export-import trade. ASEAN is China's second largest trading partner. Its total trade value with ASEAN is 1.63 trillion yuan, an increase of 9.4%, accounting for 13.5% of China's total export-import trade value.
China's total imports and exports totaled 3.49 trillion yuan with the countries along the belt and the road, an increase of 9%, higher than the national growth rate by 4.9 percentage points, accounting for 28.8% of China's total export-import trade, and the proportion increased by 1.3 percentage points.
Since 2013, in the past 6 years, more than 150 countries and international organizations have signed a "one belt and one road" cooperation agreement with China. The "one belt and one way" initiative and its core concepts have been written into the relevant documents of the United Nations, the group of twenty, APEC and other regional organizations.
The "one belt, one road" interconnection structure has basically taken shape, and a large number of major cooperation projects have taken root. There are 1239 new routes between China and other countries along the route, accounting for 69.1% of the total number of new international routes opened. The Central European Banquet has connected 108 cities in 16 countries in Asia and Europe, with a total of 13,000 rows.
The total trade volume between China and the "one belt and one road " countries is more than 6 trillion US dollars, and China's direct investment in the "one belt and one road" countries is US $90 billion.
In 18th August 2020, SME (small and medium sized enterprises) International Cooperation Zone of "One Belt, One Road" and the ASEAN and China, Japan and South Korea (10+3) SME Service Alliance secretariat was established in Weihai high tech Zone, Shandong, and signed a strategic cooperation agreement on the same day.