Legal Entity
Foreign-funded enterprises can be registered in China in two ways: legal person enterprises and non-legal person enterprises. It can be registered in the following four forms
Chinese-Foreign Equity Joint Ventures:Enterprises that are jointly invested and operated by all parties in a Chinese-foreign joint venture and share risks and profits and losses in accordance with the proportion of investment. The proportion of foreign businessmen in the registered capital of enterprises is required by law; enterprises adopt the organizational form of limited liability companies. It is also called equity joint venture.
Chinese-Foreign Contractual Joint Ventures:Enterprises with Chinese-foreign cooperation and respective rights and obligations stipulated by the parties through contracts. There is no mandatory requirement for the share of foreign businessmen in the registered capital of a company; enterprises adopt flexible ways of organization and management, profit distribution and risk burden. It is also called contractual joint venture. Limited company of Chinese-Foreign Contractual Joint Ventures may register as legal personality.
Wholly Foreign-Owned Enterprises:All the capital of the enterprise is invested and owned by foreign investors, which registered as legal personality. This does not include branches established in China by foreign companies, enterprises or other economic organizations.
Foreign Investment Partnership:Partnerships between foreign enterprises or individuals and natural persons, legal persons and other organizations in China. Normally Foreign Investment Partnership cannot register as legal personality
Representative office: The representative office of its parent company has no registered capital. Activities are limited to product or service promotion, market survey of parent company's business, quality control or contact with China. It is generally forbidden to generate any income in China or to enter into contracts with local enterprises. Representative office is not a legal personality and cannot sign contract in China.
Law and Regulation on Legal Entity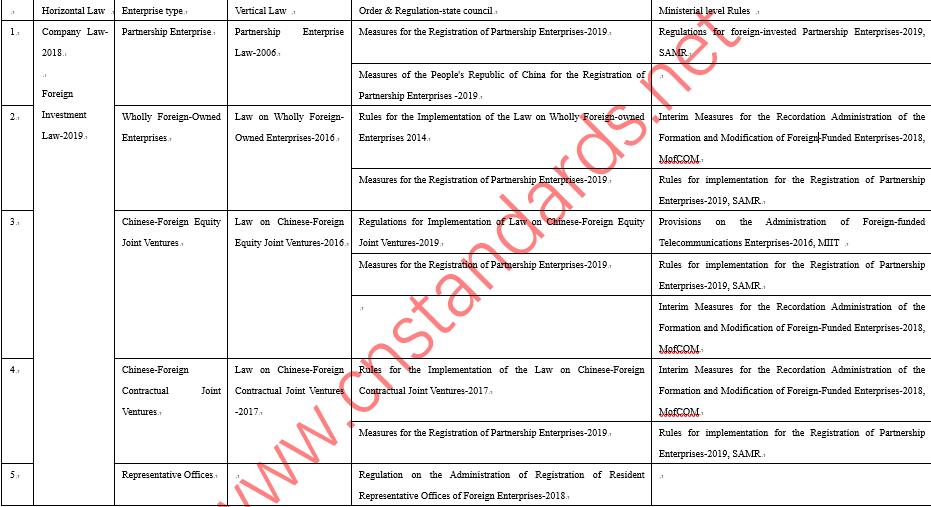 Market Access
Regulations on Legal entity of Finance and insurance enterprises
Measures for the Administration of Approval of Wholly Foreign-Owned Shipping Companies (2018 revision) – MoT & Mofcom, effect on 1st Jan, 2019
Measures for the Administration of Wealth Management Subsidiary Companies of Commercial Banks-BoC, Sept.2018
Regulation on the Administration of Registration of Resident Representative Offices of Foreign Enterprises (2018 Amendment)-State Council, Sept 2018
Measures for the Administration of Foreign-Funded Futures Companies-MPS, Aug.2018
Interim Measures for the Recordation Administration of the Formation and Modification of Foreign-Funded Enterprises (2018 Amendment)-Mofcom, Jun.2018
Special Administrative Measures (Negative List) for the Access of Foreign Investment in Pilot Free Trade Zones (2018)-Mofcom, Jun.2018
Interim Measures for the Recordation Administration of the Formation and Modification of Foreign-Funded Enterprises (2018 amendment)-Mofcom, Jun.2018
Notice of the State Council on Certain Measures for Actively and Effectively Utilizing Foreign Investment to Promote Quality Economic Development-Jun.2018
Administrative Measures for the Examination and Approval of Permanent Representative Offices of Foreign Air Transport Enterprises (2018)-MoT, May.2018
Measures for the Administration of Foreign-Funded Securities Companies-BoC, April.2018
Detailed Rules for the Implementation of the Regulation the Administration of Foreign-Funded Insurance Companies (2018 amendment)-BoC, Feb.2018
Measures for the Administration of Foreign Insurance Institutions' Representative Offices in China (2018 amendment)-BoC, Feb.2018
Implementation Measures of the China Banking Regulatory Commission for the Administrative Licensing Items concerning Foreign-Funded Banks (2018 Revision)-BoC, Feb.2018
Rules for the Implementation on the Administration of Foreign-Funded Insurance Companies (2018 Revision)BoC, Feb.2018